Warning: if you're a London enthusiast, this post may sidetrack your day.
A previous blog post was primarily about digital collections of London in images (photographs, prints, drawings, etc.). This post looks at the wider world of digital collections about London, including maps, in ten outstanding examples.
As a parameter, I've included only collections that do not require a login but are available open access on the Internet. Also, I'm interested in "website projects" that add value to digitized primary sources, in addition to compiling them.
The purpose of this post is to gather these authoritative resources together, providing a fairly short description, an example (as copyright allows), and links to more information. I am absolutely not doing justice to the scope and value of these websites (sigh), but merely presenting them all in one place for convenient reference and exploration.
Special thanks to Mike Paterson, Peter Berthoud, Phoebe Harkins, and Steve Hutchings, of the the excellent London Historians' active Facebook group, for very kindly bringing to my attention many of the websites below.
Enjoy exploring (and perhaps bookmark for later)!
1) London's Pulse: Medical Officer of Health Reports 1848-1972
http://wellcomelibrary.org/moh/
The Wellcome Library has digitized and made searchable more than 5,500 Medical Officer of Health (MOH) reports from the Greater London area.
The detail in these reports about local communities is enormously valuable for historians. My own particular interest is in the provision of London underground public conveniences (toilets / lavatories), especially for women, as a view into social history (see my dissertation), and the MOH reports are a rich source of (new to me) information.
For instance, below are the financial accounts for public conveniences reported in the 1894-95 MOH Report for St. Saviour's District, Southwark. The figures show the revenues and expenditures for men's and women's "departments," including the attendants' salaries, and what was paid for lighting, water, soap, towels, and paper, among other things. Even names of vendors are indicated. Many lines of inquiry may be pursued from these figures, especially in comparison to the following year's report, which is also available. (Particularly intriguing to me is an additional £100 revenue from "Advertisements at Public Conveniences" (p. 73). What is this, I wonder?)
Compliments to the Wellcome Library on the exceptionally robust and intuitive user interface, which is a pleasure to use.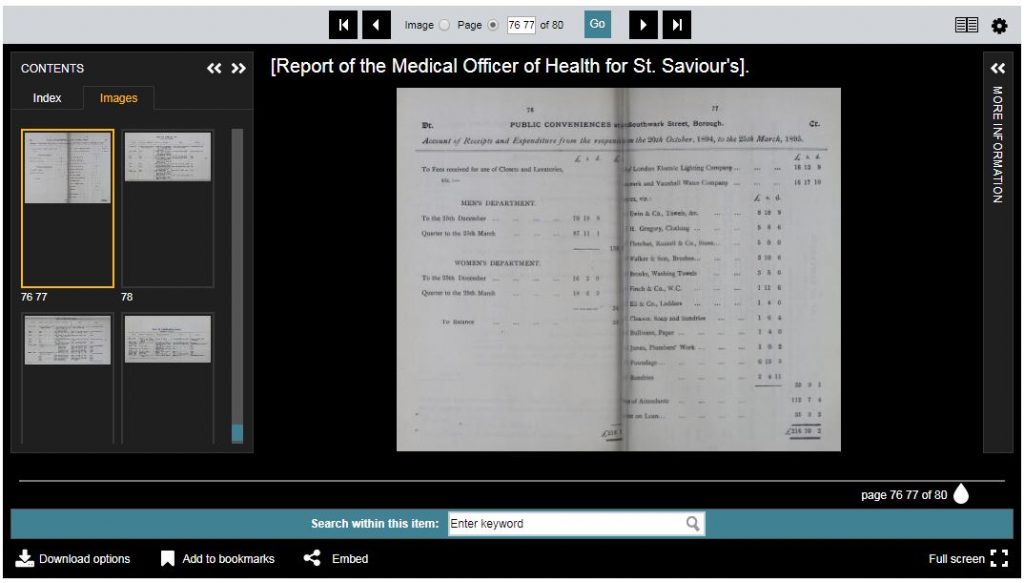 2) The Proceedings of the Old Bailey, London's Central Criminal Court, 1674-1913
https://www.oldbaileyonline.org/
Old Bailey Online is "a fully searchable edition of the largest body of texts detailing the lives of non-elite people ever published, containing 197,745 criminal trials held at London's central criminal court" (source). See more about this project, whose directors include Professor Tim Hitchcock.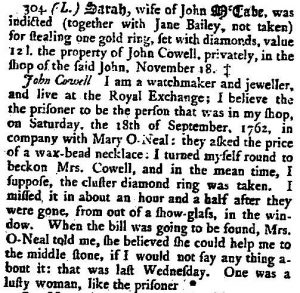 As an example, I've been tickled since I read a few years ago that Sarah McCabe (a "lusty woman") was indicted for shoplifting "one gold ring, set with diamonds" from a jeweler at the Royal Exchange in 1762 (and found not guilty, thank you very much).
Please see a fuller description of the resource on Connected Histories, which brings together, links to, and reviews 25 digital sources for British History for the period 1500-1900.
See also Digital Panopticon, a website which "allows you to search millions of records from around fifty datasets, relating to the lives of 90,000 convicts from the Old Bailey" (source), to trace London convicts in Britain and Australia, 1780-1925.
3) London Lives 1690-1800: Crime, Poverty and Social History in the Metropolis
London Lives is "a fully searchable edition of 240,000 manuscripts from eight archives and fifteen datasets, giving access to 3.35 million names" (source). Subjects include local government, criminal justice, poor relief and charity, and guilds and hospitals. Document types include parish records, sessions and coroner's records, hospital and guild records, as well as documents concerning crime and criminal justice, and poverty and poor relief.
The site contains much rich supporting and explanatory material, including research guides and resources. Please see a fuller description on Connected Histories.
4) Locating London's Past
https://www.locatinglondon.org/
Locating London's Past "allows you to search a wide body of digital resources relating to early modern and eighteenth-century London, and to map the results on to a fully GIS compliant version of John Rocque's 1746 map" (source). Datasets include many from London Lives 1690-1800 (above), including coroner's records, criminal justice (City of London sessions papers, etc.), plus Old Bailey Proceedings, 1665 plague deaths from the Centre for Metropolitan History, and much more.
Have a look at this brief introductory tutorial to the website and its features, and three more on Vimeo.
5) Survey of London Histories of Whitechapel
An ongoing project is this map with "information about every building in Whitechapel in 2016, including photographs, stories and research, film clips and audio recordings added by historians, local people and others with an interest in the area" (source). You can explore the map based on themes including commerce, entertainment, education, housing, public buildings, restaurants, and more. It's a gorgeous website with intuitive navigation … and you can even contribute your own memories.
Check out the video overview below.
See also British History Online: Survey of London. "The Survey of London, founded in the 1890s, is the nearest thing there is to an official history of London's buildings. This series provides detailed architectural and topographical studies of the capital's built environment" (source). The Survey's upcoming Volume 54 will cover Whitechapel.
6) Charles Booth's London
"Charles Booth's London enables you to search the catalogue of over 450 original notebooks from the Inquiry into Life and Labour in London (1886-1903), view 41 digitised notebooks and explore the London poverty maps" (source). Here's where you can explore the iconic Booth maps, showing levels of poverty and wealth found by the survey investigators, overlaid onto today's Google map of London. A slider allows you to toggle between the two. Stunning. I could play with this for hours and never get anything else done.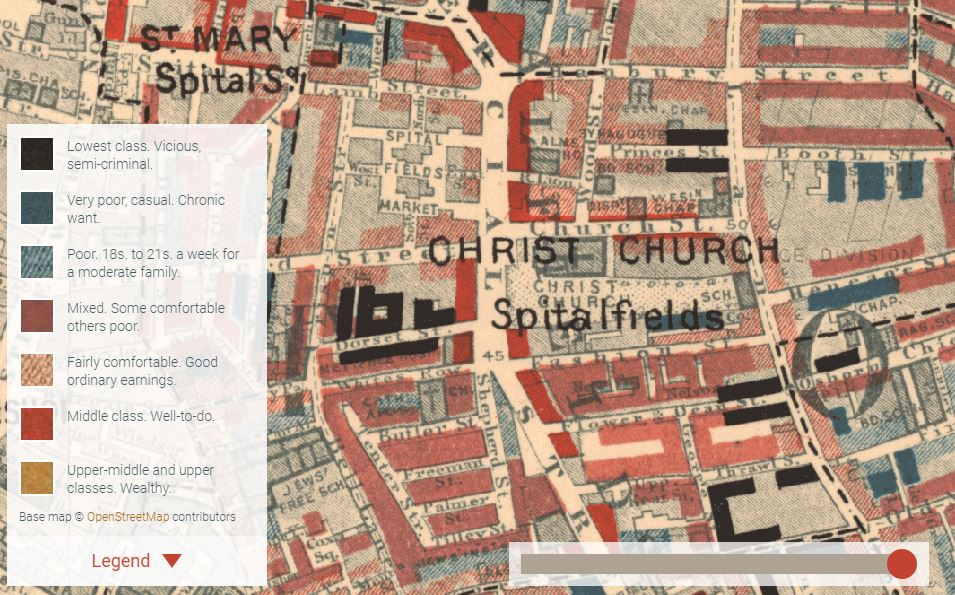 7) London Sound Survey
http://www.soundsurvey.org.uk/
The London Sound Survey is "a growing collection of sound recordings of people, places and events in the capital. Historical references too are gathered to find out how London's sounds have changed" (source). Recordings are not only historical but recent as well. For instance, here are Brick Lane traders (2008) ("Banana banana banana banana!"), the Smithfield Meat Auction (2012), a Big Issue seller in Hammersmith (2008), and Embankment Station tube arrival and Mind the Gap (2010). If you close your eyes, it's almost like being there.
Maps
8) Old Maps Online
http://www.oldmapsonline.org/en/London,_United_Kingdom
This project combines hundreds of maps from various partners including the David Rumsey Map Collection, Harvard Map Collection, the British Library, and many others. For example, here's a Geological Map of London, published by Letts, Son & Co. in 1883, in the handy offered embedded viewer.
9) British Library
Visit the Crace Collection of Maps of London, which is "the essential guide through the history of London: some 1200 printed and hand-drawn maps charting the development of the city and its immediate vicinity from around 1570 to 1860. The maps were collected, mainly during the first half of the nineteenth century, by the fashionable society designer, Frederick Crace" (source).
Also see the series of Goad Fire Insurance Maps of London and South East, which show individual buildings and their use. Be sure to open maps in Zoomify to view the most detail.
10) British History Online
http://www.british-history.ac.uk/
Last, and absolutely not least, British History Online "is a not-for-profit digital library based at the Institute of Historical Research. It brings together material for British history from the collections of libraries, archives, museums and academics. These primary and secondary sources, which range from medieval to twentieth century, are easily searchable and browsable online" (source). Please see a more detailed description via Connected Histories.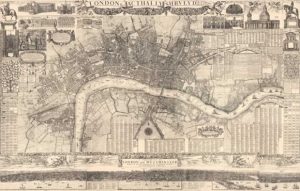 Here you'll find:
… and so much more.
If you found this post interesting, feel free to share it.