Starting to explore an amazing digital collection is like falling into a black hole. Or a time warp. In a good way.
This month I'm taking an online professional development class on managing special image collections and starting digitization programs. In the first week, we examined the user interfaces of various digital collections. Searching for an image to use as an example for an assignment got me wondering what digital collections are out there for London, England.
This post is a quick compilation of some of the resources I've located. By digital collections I mean photographs, prints, maps, drawings, etc. (illustrated manuscripts, marbled paper patterns, book bindings), that have been scanned or photographed to be made available online in a digital format.
Here are some questions to keep in mind, with regard to characteristics of various user interfaces.
What searching options are available? How robust is browsing, filtering, record linking, and navigation?
What options are there for examining or manipulating images? Can you zoom in and out, rotate, expand images to fill the screen?
Can you download, print, share, or embed images? How big are they?
Can you comment on or tag images (to create a folksonomy)?
What are copyright restrictions? Are they clearly stated?
Is the website responsive (easy to use on different devices)?
What metadata is provided?
I'm sharing links to these collections for future probing, with no comment … or I'll never get out of this (very enjoyable) black hole.
Happy exploring!
---
Image taken from page 133 of "Cook's Handbook for London. With two maps." (1894)
---
COLLAGE: The London Picture Archive
View of nos. 6-12, Broad Street Place, Blomfield Street. The glass is broken in most of the windows. 8 September 1915. No.29 of a set of 57 photographs showing damage caused by German Zeppelin raids.
---
LSE (London School of Economics) Digital Library: Street Life in London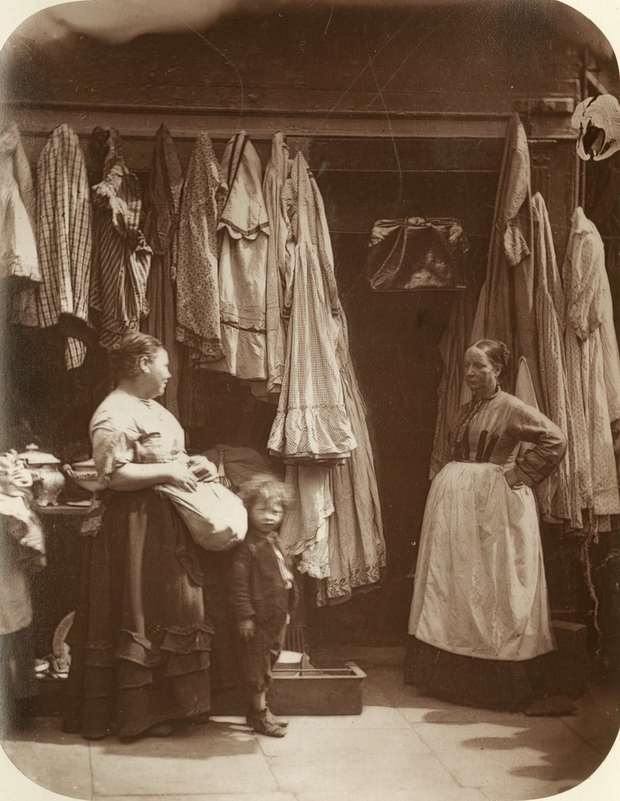 "The Old Clothes of St. Giles" on LSE Digital Library is licensed under CC BY-NC-SA 3.0
---
See also these digital collections of art prints / images for purchase:
Bonus: Connected Histories, a mother lode of British history digital resources for the period 1500-1900.
If you found this post interesting, feel free to share it.