ANIMALIA: Animals in the Archives, an onsite exhibit at the Archives of Ontario at York University, is outstanding.
When I first learned from Alison Little, Senior Coordinator, Educational Programming and Exhibitions at the Archives of Ontario, that the Archives would be mounting an animal-themed exhibit, I envisioned something similar to their (and her) 2017 Family Focus exhibition (which was also wonderful), with photos chosen from the collection, simply framed.
ANIMALIA, which opened in December 2018, is so much more.
It's a multi-sensory experience: educational, entertaining, thought-provoking, full of beautiful imagery, appealing to adults and children, and deserving of multiple visits.
It's lighthearted at times, serious at others, and consistently supported by authoritative information. The amount of careful thought, research, design, and planning which went into the exhibition is obvious, including sourcing contributions from partners (CNIB Guide Dogs, the ROM, Black Creek Pioneer Village, Six Nations Polytechnic, etc.). What a pleasure!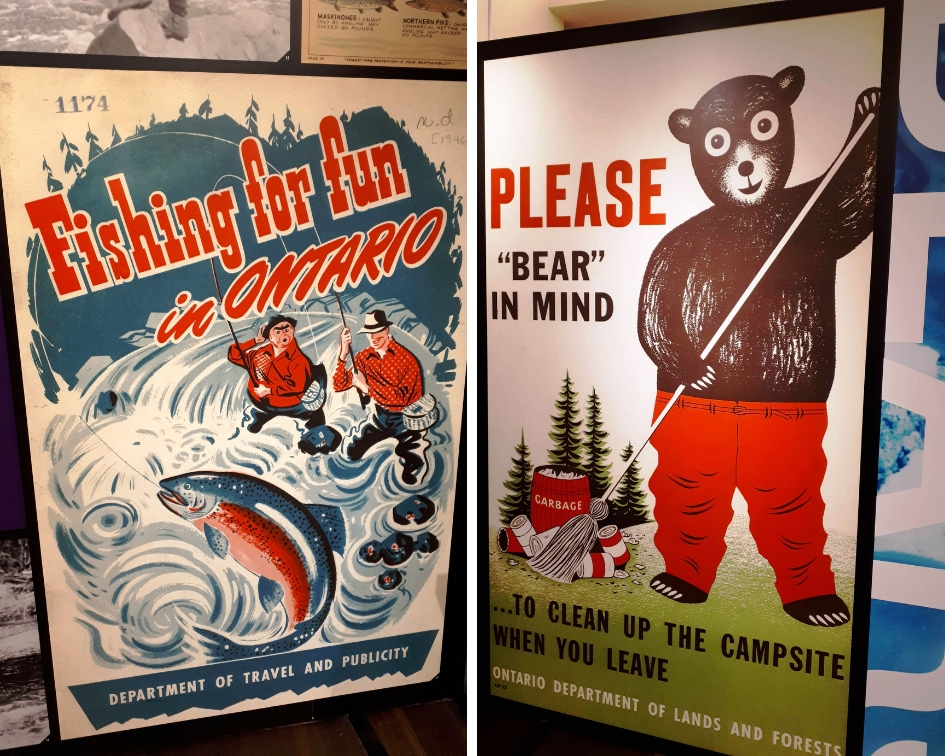 You're welcomed to the exhibition by a brief message in Alison's voice, in English and French, which made me smile when I heard it. As you go through, you hear subtle sounds overhead of birds and pigs (and probably other animals). As the text at the entrance explains:
Ontario is home to an amazing array of animals.
Humans aren't the only ones documented in our collections. Other species are also important to Ontario's history!
This exhibit explores how our relationships with animals – and the methods we've used to document these relationships – have changed over time. The ways humans have recorded, remembered, and affected other animals says as much about us as it does about them.
While our focus here is on five very different animals from our collections [dogs, fish, bears, horses, birds], there are many more to discover in the archives!
There are activities throughout that will appeal to children, and provide educational opportunities.
In the Fish section, there is an attention-grabbing and rather terrifying foot-tall model of a sharp-toothed sea lamprey, that you're invited to "Please touch!" (I did). I now know more about the control of this destructive invasive species, and the economic damage it has inflicted in the Great Lakes, than I ever expected to (and getting a little freaked-out doing so was fun and memorable).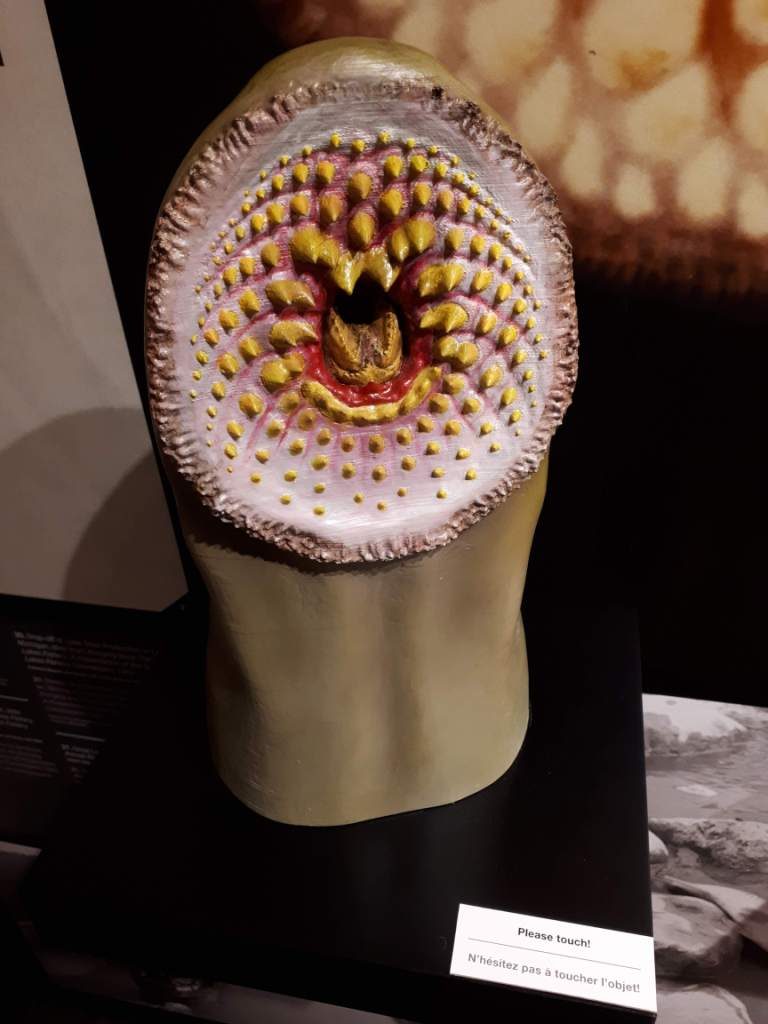 The Archives have created an online version of ANIMALIA: Animals in the Archives too. It includes a video compilation of animals on film from the collection. (Videos also play in the live exhibit.)
See in particular the "Saga of Slippery" at 6:08. Growing up in London, Ontario, as a little kid I'd heard the story of the June 1958 escape of Slippery the Seal from Storybook Gardens, but I'd never seen the news footage before (including the parade held in downtown London, celebrating his return from Toledo, Ohio, wow!). Great stuff.
The coup de grâce is the Wall of Pests at the end, literally showcasing all the various nasties that bedevil the archives. I did not take a photo, as these are images I'd prefer to forget (but it was awesome to learn about them).
The Archives of Ontario Helen McClung Exhibit Area is museum no. 6 in my #100museums challenge (see 100 Museums Challenge).