My collection of Ontario historic plaques photos has reached 250! Yesterday, in fact, was an 11-plaque day, bringing the total to 262.
Created last December 2017 as a test collection for an Omeka software demonstration website, my plaques project has turned into a fun and mildly obsessive little hobby. I began with about 60 photos, amassed unsystematically in the last few years of travelling around the province.
Since then, I've sought out opportunities to track down federal (red), provincial (blue with gold edging), and Toronto local (brown) plaques, occasionally on planned "plaque safaris" like yesterday's in Toronto's St. Lawrence neighbourhood (after a terrific bookbinding class by Sprouts Press).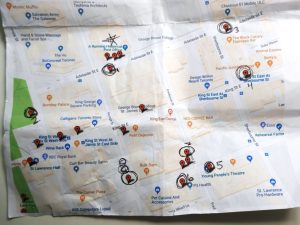 Other safaris which have yielded a plethora of plaques have been Toronto Island in April 2018 (15), the Canadian National Exhibition and area in August 2018 (12), and Niagara-on-the-Lake (the plaquiest town I've seen, though I've yet to photograph Kingston, which is even plaquier) in September 2017 (10).
In 2018 so far, I've photographed and transcribed plaques from Orillia (including the Mnjikaning Fish Weirs), Waterloo (The Huron Road), Stoney Creek (First Women's Institute 1897), Peterborough (Petroglyphs Provincial Park), Port Credit (The Government Inn 1798-1861), Baden (Castle Kilbride), New Hamburg (The Founding of New Hamburg), London (Paul Peel 1860-1892), Shakespeare (Fryfogel's Inn), and Cobourg (Victoria Hall).
Why am I doing this project?
Primarily to educate myself about my local environment.
For exercise: plaque spotting is a great motivation to take a walk!
To satisfy my librarianish cataloging and classifying urge.
For the joy of serendipity. For example, when roaming Toronto Island, I made a spur of the moment decision to take the advice of a chalk-board sign and pop into The Rectory Café for dinner. I turned out to have stumbled on their reopening night party (after closing due to 2017 floods)! In addition, I met and ate with a lovely classmate from university, whose partner was now running the restaurant. And the food was delicious.
It's a bit dorky, which pleases me.
You can visit the full site in all its glory at https://ontarioplaques.omeka.net/.
What's my favourite? Forever and always the very first plaque photo, taken by my mother of me in my father's arms (with cousin and grandmother) in Pigeon River Provincial Park, outside Thunder Bay (and revisited in 2015 with an indulgent friend).