A recent addition to my London books collection is Pictorial London: Views of the Streets, Public Buildings, Parks and Scenery of the Metropolis, published 112 years ago in 1906 by Cassell & Company.
It's a hardcover green cloth-bound monster of a tome, containing 500+ black and white images, and part of a job lot I brilliantly sort of accidentally purchased* at auction from eBay UK. There's accompanying descriptive text at the back of the book.
I initially thought the pictures were all photographs, until I noticed the far-too-conveniently-posed figures in many of them. In fact, a contemporary (1906) book review in The Spectator refers to them as drawings, so perhaps they're a mixed bag.
Nevertheless, it was a treat to go through the many views of London (veracity taken, now, with a grain of salt). Some of the images were quite a revelation to me – and now I have more questions.
Unfortunately, the book itself turned out to be water-damaged and quite mildew-stinky, so I don't think it's staying long in the collection. However, I've salvaged and scanned a set of images that I found particularly interesting.
Please enjoy these five pictures and original text from Pictorial London, with a few comments from me. (Click/tap any image to open a larger version.)
1) The Foundling Hospital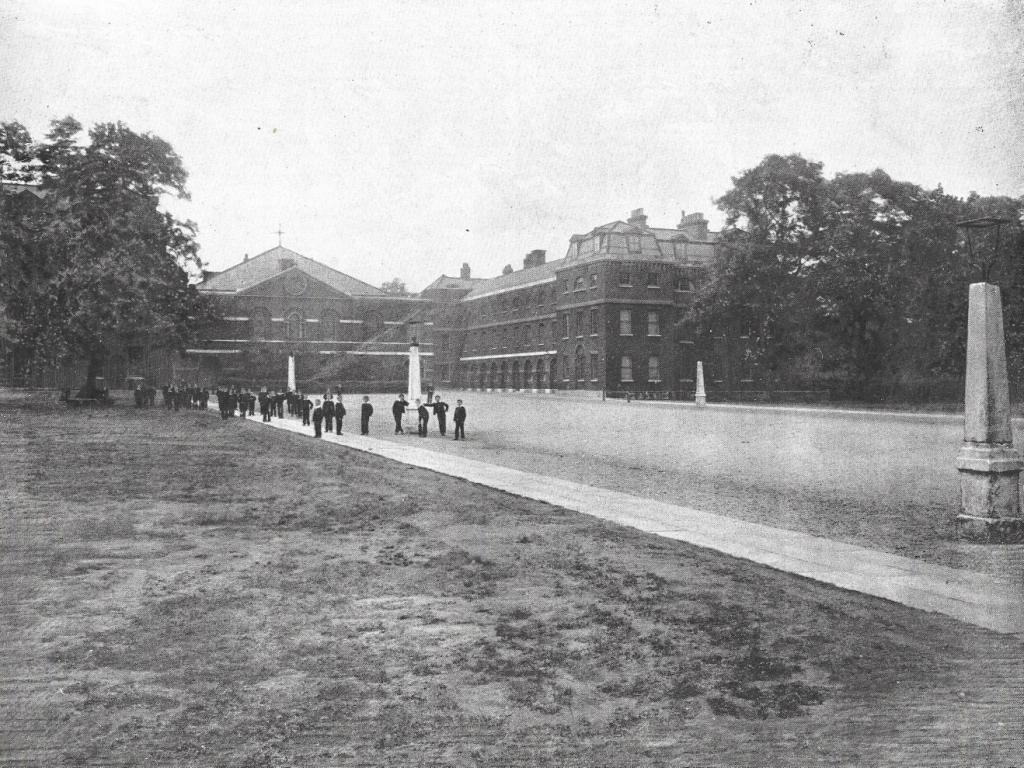 As things are at present, the Foundling Hospital has a misleading title, for children are now only admitted to it on the personal application of their mothers. The institution was established by Captain Thomas Coram, in 1739, for deserted children; and at that time the Guilford Street district consisted of green fields. The yearly income of the Hospital, owing to the increased value of the estate, is about £13,000, and some five hundred boys and girls are cared for by the charity. The roof surmounted by a cross is that of the chapel; and the Sunday morning service, at which the children sing, accompanied by the organ presented by Handel, one of the benefactors of the Hospital, is among the most popular in London. After service, visitors are allowed to see the valuable pictures and other treasures in the western wing.
I lived across the street from this property, now Coram's Fields children's park, when I was at school in London in 2011-2012 … and I don't recall ever having seen a view of this building. (Alright, I must have seen something similar, when visiting The Foundling Museum, but for some reason it didn't stick in my mind.) This looks more like a photograph than a drawing, yes?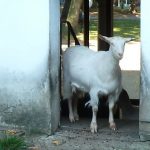 The Foundling Hospital was demolished in 1926 (so not that long ago, really) and it's fascinating to me that such an enormous structure can have so thoroughly disappeared. Some remnants of the original hospital do remain, though, such as the empty plinth on Guilford Street.
As one must be accompanied by a child to enter Coram's Fields, I haven't yet managed to visit, though I would still like to investigate the rest of the grounds. (I did, however, quite use to enjoy the sheep and goats who lived in the animal area around the edge. There was also a healthy, i.e. loud, rooster too, which I thought was pretty neat for central London.)
2) Interior of the Royal United Service Institution Museum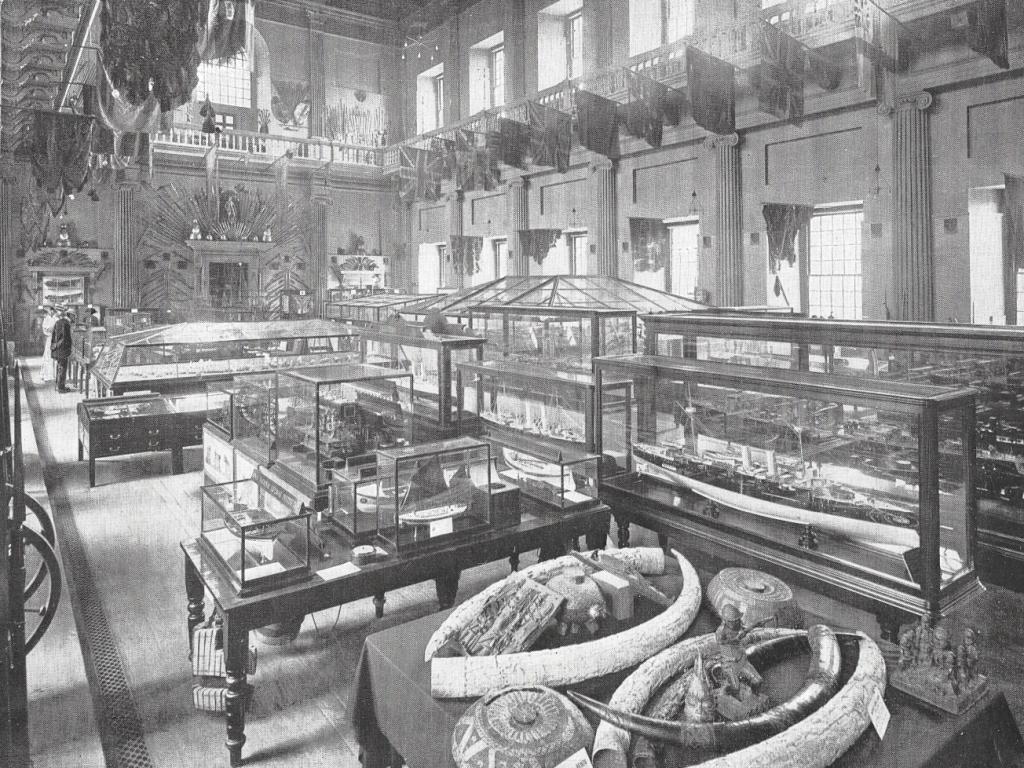 This interesting museum contains a varied and comprehensive collection of weapons, ancient and modern, and of naval and military implements and appliances of every kind, as well as models of ships and battlefields and a host of relics and trophies. Perhaps its most notable feature is Captain Siborne's model of the battle of Waterloo, in which 190,000 figures are represented and the disposition and movement of all the forces engaged are clearly shown. Among the relics are swords of Cromwell and Wolfe, a midshipman's dirk which belonged to Nelson, and the skeleton of Napoleon's charger Marengo.
I'd never heard of this museum before. Looking harder at this image, though, I was thinking, hang on, this looks like the interior of the Banqueting House in Whitehall. And it is! The Dictionary of Victorian London by Lee Jackson has more on the United Services Museum.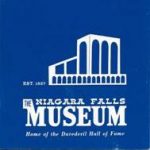 It's really interesting to see a space that I've only observed as open and empty, having been put to another use. I'm thrilled to learn of the existence of another old fashioned case-and-label style museum in London too (which reminds me of the long-gone Canadian Niagara Falls Museum, est. 1827, a guidebook to which, from a childhood visit, is one of my treasured possessions).
What became of the Royal United Service Institution Museum? Apparently some of the artefacts, like Oliver Cromwell's watch, went to the Glenbow Museum in Calgary in the 1960s! Must investigate further.
3) Temple Bar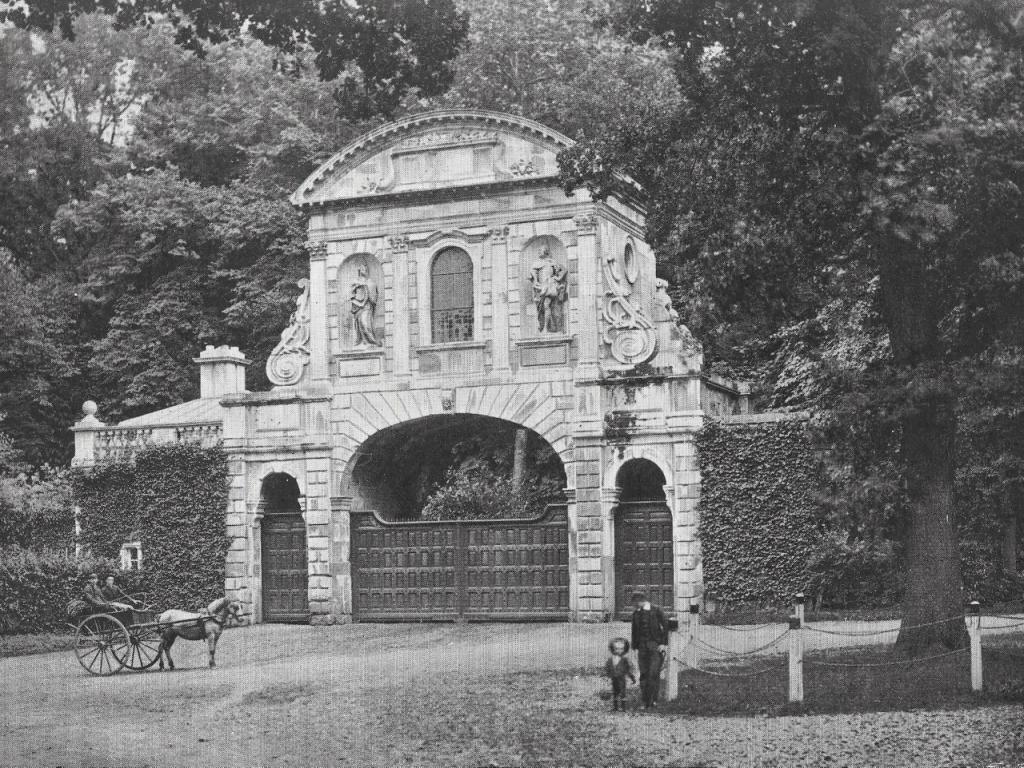 Temple Bar was removed from the east end of the Strand in 1878, when the thoroughfare was widened, and the site was marked by the memorial which has incurred so much unfavourable criticism. Wren's famous gateway, built in 1670, to replace the old gatehouse, which perished in the Great Fire, and which marked the boundary between the City of London and Westminster, was re-erected in 1888 in a very different place – at one of the entrances to Theobalds Park, Waltham Cross – after the stones had lain exposed to the weather for ten years. Its west side was adorned with statues of Charles I. and Charles II., and the east with statues of James I. and Anne of Denmark; and on the top were once spiked the heads of malefactors. In Theobalds Park, bought by the late Sir Henry Meux in 1882, once stood the famous Theobalds Palace, which the first Earl of Salisbury exchanged with James I. for the royal palace of Hatfield. Theobald's Palace was demolished by order of the Commonwealth.
I knew Temple Bar had been in Hertfordshire after it was removed from London, but I'd never seen a picture (photo?) of it in situ. Here's a short video showing the poor state of Temple Bar at Theobalds Park in 1990.
The structure has been restored and was installed back in London in Paternoster Place in 2004. The dismantling and reassembling must have been an amazing process. Something to look into.
4) Covent Garden Market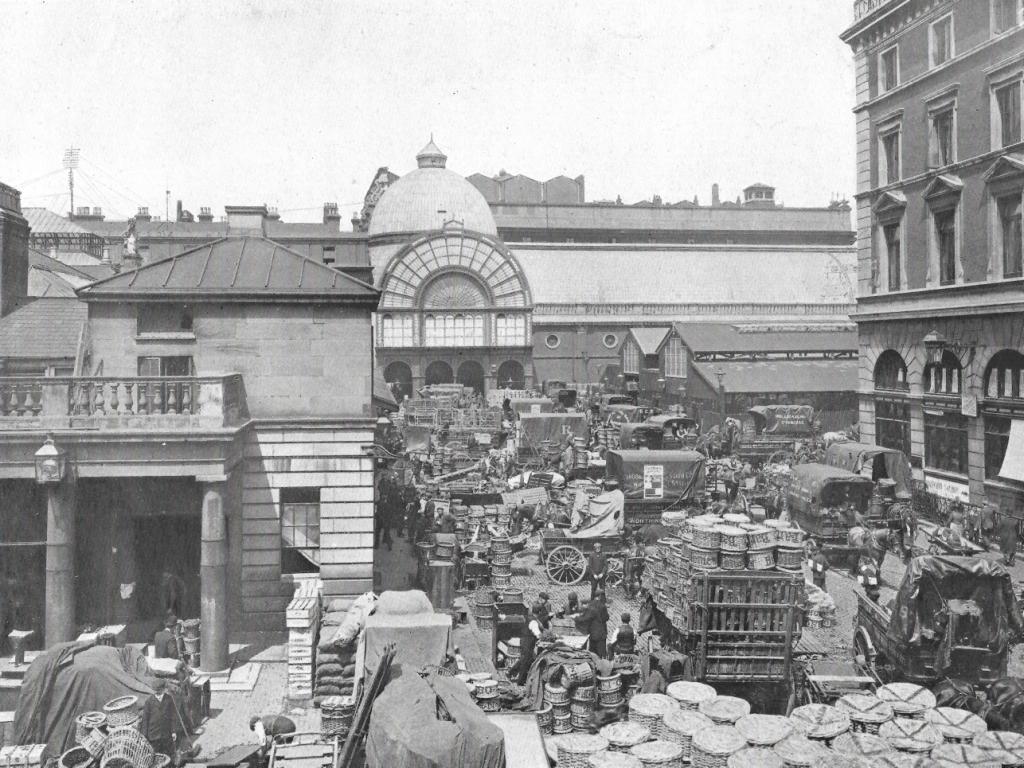 Covent Garden, the extremely profitable property of the Dukes of Bedford, is, as all the world knows, the chief fruit, vegetable, and flower market in London. It stands in a district abounding with the most interesting historic memories, and was founded in the seventeenth century, though the present market buildings were only erected in 1831. Since then they have undergone several considerable extensions. The scene presented in our view – order in disorder, innumerable baskets and carts filled to overflowing with seasonable products, porters bustling to and fro – is a very characteristic one. The market was granted to the Russells by Charter of Charles II. in 1671, but has been regulated by Act of Parliament since 1828.
What an amazing picture! Such a contrast to today. Carts and horses on the pavement where the Tuttons restaurant now has its outdoor seating (beside the building at right). All the bustle and baskets and crates on what's now a piazza (outside my favourite Ben's Cookies).
I've long wondered how these buildings, now full of shops, originally functioned. Shaw's Pygmalion / My Fair Lady vision of the market would have been in the late 1930s, so thirty years after this picture, but probably (?) of a similar atmosphere. The market only moved out, to southwest London, in 1974, so it's still very much within living memory.
The whole Covent Garden neighbourhood has a long, fascinating, and racy history.
5) The Memorial Hall, Farringdon Street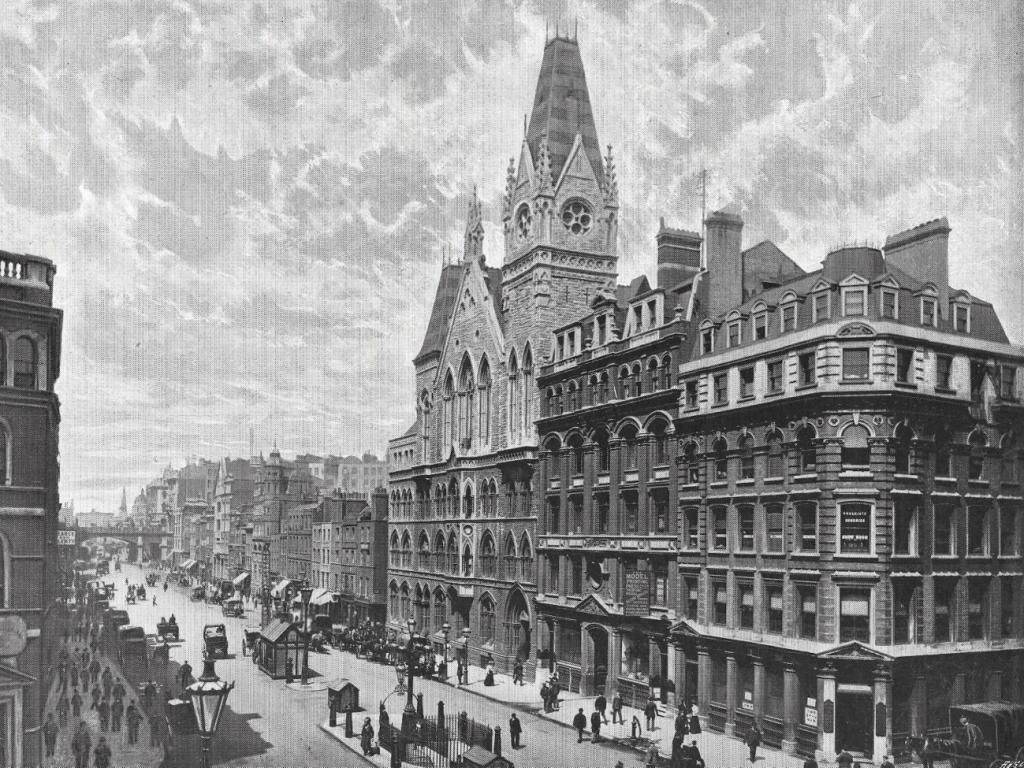 The Memorial Hall, built by the Congregationalists in memory of the two thousand clergymen who, for their non-subscription to the Act of Uniformity, were deprived of their livings in 1662, occupies the site of the famous Fleet Prison. This handsome stone building, designed in the Gothic style by Mr. Tarring, and opened in 1874, has a frontage of 84 feet in Farringdon Street. It contains a hall which will hold 1,500 people, and a fine library of somewhat smaller dimensions, with many offices occupied mostly by denominational societies. The building to the left of our view – a bank – stands at the corner of St. Bride Street; and the bridge in the distance is that which carries the Holborn Viaduct over Farringdon Street.
What is this?? An unfamiliar building. Not that that's surprising, but it's a joy to see something new (to me). At first I thought it might be the red terracotta Prudential Assurance Building on High Holborn, especially because … in the middle of the road, with the railing and descending stairs, is an underground public convenience (toilet) (as on High Holborn). Old photos of these are quite rare, so I'm really pleased to see this one (which will sound fairly odd, except that I wrote my MA dissertation on London sanitation, so I have a special interest).
The Congregational Memorial Hall in the picture (I'd say photo, except the people at bottom left look a bit sketchy?) was demolished in 1968. A new building went up called Caroone House, an office, Wikipedia notes intriguingly, "which was used by British Telecom for its international business and telephone tapping." This in turn was demolished in 2004, and 5 Fleet Place now stands on the site.
What's in the middle of Farringdon Road today outside 5 Fleet Place? Barriers with descending stairs, still leading down to those same underground public conveniences (long disused, unfortunately).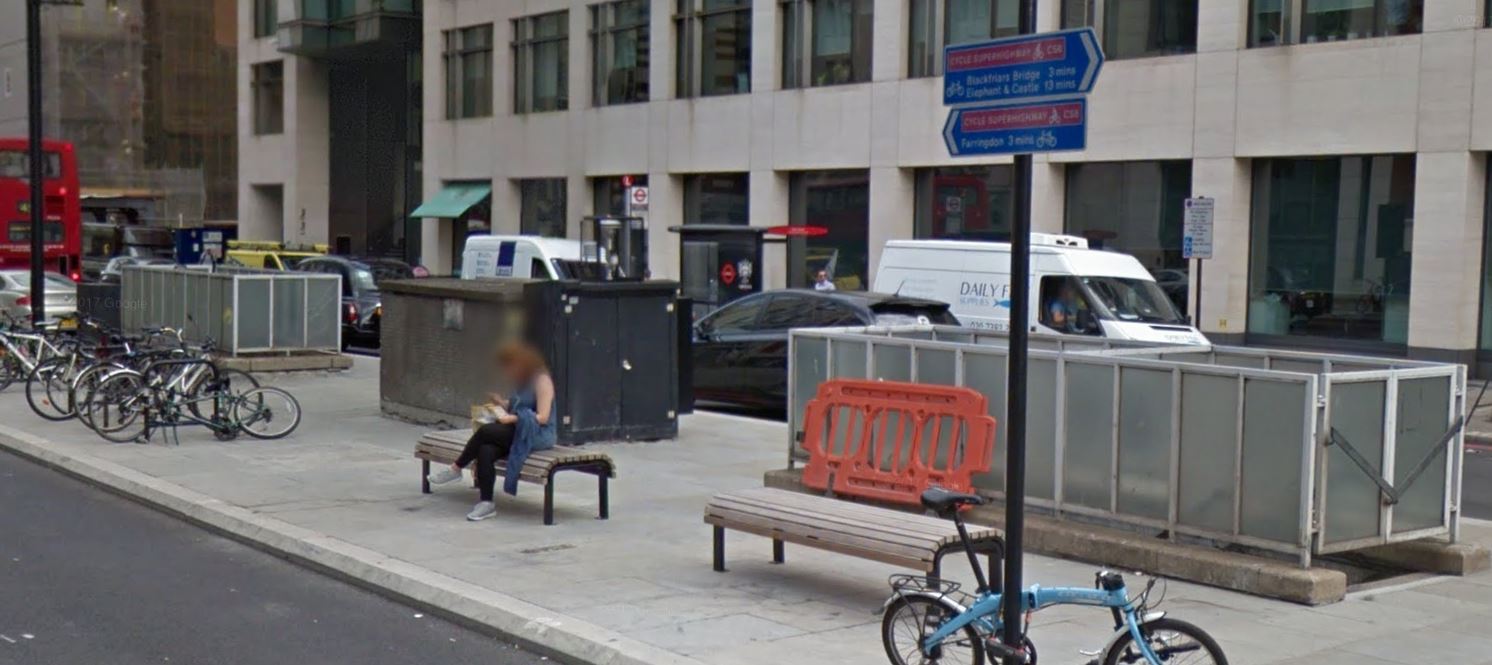 Here's a small selection of other photos I found interesting, for one reason or another (click/tap to enlarge).
If you ever have a chance to look through Pictorial London: Views of the Streets, Public Buildings, Parks and Scenery of the Metropolis from 1906, it's time well spent. There's something in its hundreds and hundreds of images for any London lover.
* I followed a link from Facebook to an eBay auction of vintage London books on my phone before I went to sleep, and somehow managed to make a bid in the night. When I woke up – surprise! – I'd won, and was advised to collect the books ASAP in east London, as shipping to Canada was unavailable. Small panic … so an obliging friend very kindly collected the pile for me and stored them – for six months – until I could pick them up in person a few weeks ago.
If you found this post interesting, feel free to share it.