One of the most delightful things I've realized recently is I'm still completely in love with the work of designer Kaffe Fassett.
His use of colour in a myriad of media (painting, knitting, quilting, mosaics, fabric, needlepoint, etc.) was inspiring to me when I was a serious knitter in my teens and twenties. I heard him present in Toronto, then when I lived in Denver, and later in London at the Victoria & Albert Museum.
I've collected his books, starting way back with Glorious Knitting (1985), and was thrilled when he returned his attention to knitting for Kaffe Knits Again (2007).
Here are a few of his recent Instagram posts to give an idea of his rich use of colour.
And here, Mr. Fassett tells the story of how he got started, after he came to London from California in the 1960s.
So what's happened to remind me of my passion for colour and knitting, which I've let lapse in recent years? Two serendipitous things.
1) Old Photos on my UK Mobile Phone
When I was in London (too briefly) a few weeks ago, I charged up my UK mobile phone, an old Nokia candy bar model with a teeny tiny camera. In the phone's memory, I found some photos I'd taken from the Kaffe Fassett – A Life in Colour exhibition at London's Fashion and Textile Museum in 2013.
The show was stunning stunning stunning, even including knit pieces you could touch (and examine the back side of). My photos were underwhelming, underwhelming, underwhelming, which is probably why I never bothered transferring them from the phone.
Nevertheless, I was invigorated to see the pictures, and remember why I'd taken them. Here they are.
2) Visiting Black Creek Pioneer Village's Quilts at the Creek
A friend invited me to join her for this year's quilt show at Black Creek Pioneer Village in Toronto. Not being a quilter, I was honestly looking forward to the living history museum aspect of the visit somewhat more than the textiles part.
But oh my … what a visual feast. The 200+ quilts on show made a spectacular display. Hanging from lines all throughout the village, they swayed in the breeze and shone in the summer sun.
This one was my favourite.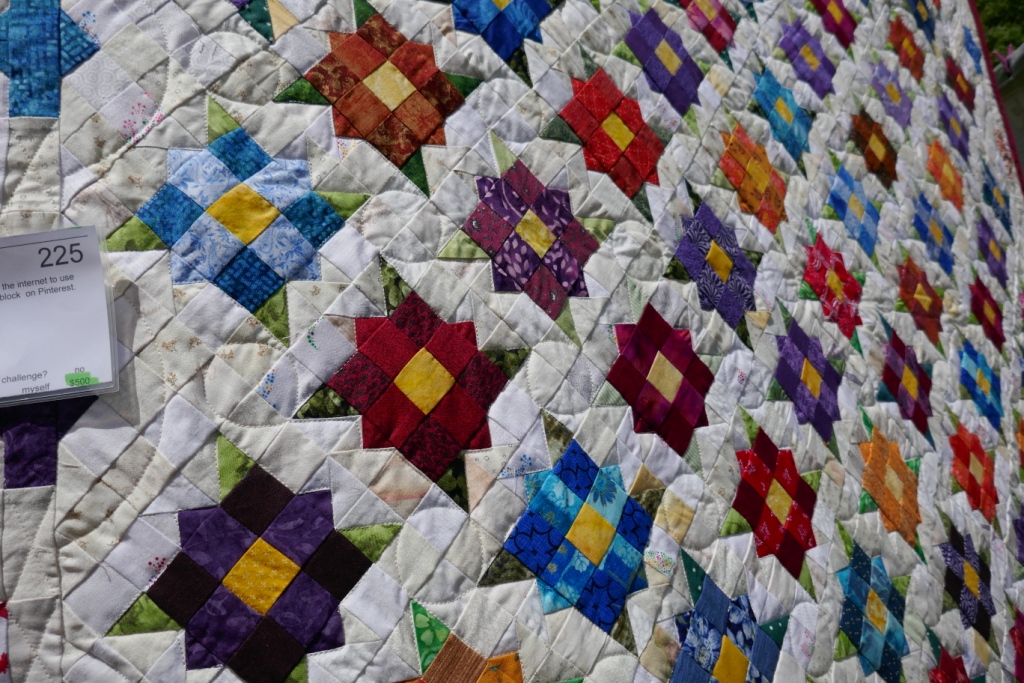 And then … we reached the Quilter's Marketplace. And there … there was a vendor, Hyggeligt Fabrics, selling hundreds of Kaffe Fassett fabric samples, which I'd never seen before. It was so beautiful (I'm running out of adjectives), I thought I'd died and gone to heaven.
Here's what part of the table looked like (from someone else's Instagram, because of course I didn't take pictures, because I was too busy absorbing the colours).
So I'm pretty sure I made a proper fool of myself, with the enthusing. (I recall telling the vendor something like "I'd like to be buried in this," at one point.) (But I would. Seriously.)
I bought some fabric, the pattern you see at the top of this post. What am I going to do with it? Probably nothing in particular, except (iron it and) look at it and be happy.
And start knitting again!?!
P.S. Oh my gosh, he does paper. I've just seen his marbled end papers on the Hyggeligt Fabrics website, and I'm pretty much dead. But happy.