It was a pleasure to visit the special exhibition Emperors & Jewels: Treasures of the Indian Courts from The al-Sabah Collection, Kuwait at The Aga Khan Museum.
The stunning huqqa pipe water reservoir above comes with the following caption.
Until around the end of the 16th century tobacco was effectively unknown in India. It was first introduced from the New World by Western sailors, more specifically the Portuguese, at the turn of the 17th century, whereupon cultivation of tobacco leaves immediately caught on in India.
It has been said that Emperor Akbar was offered a huqqa and tobacco which he reportedly smoked with great enjoyment, following which the practice was introduced to the court.
Tobacco was also included among gift items and served with pan, the betel leaf preparation, at Hindu weddings.
My other favourite of the 90 objects included (jewellery, paintings, many swords and daggers, glassware, etc.) was this gorgeous floral garden carpet. It boggles my mind how something from the 1600s can have survived so well – a testament to the piece's craftsmanship (and skillful modern conservators!).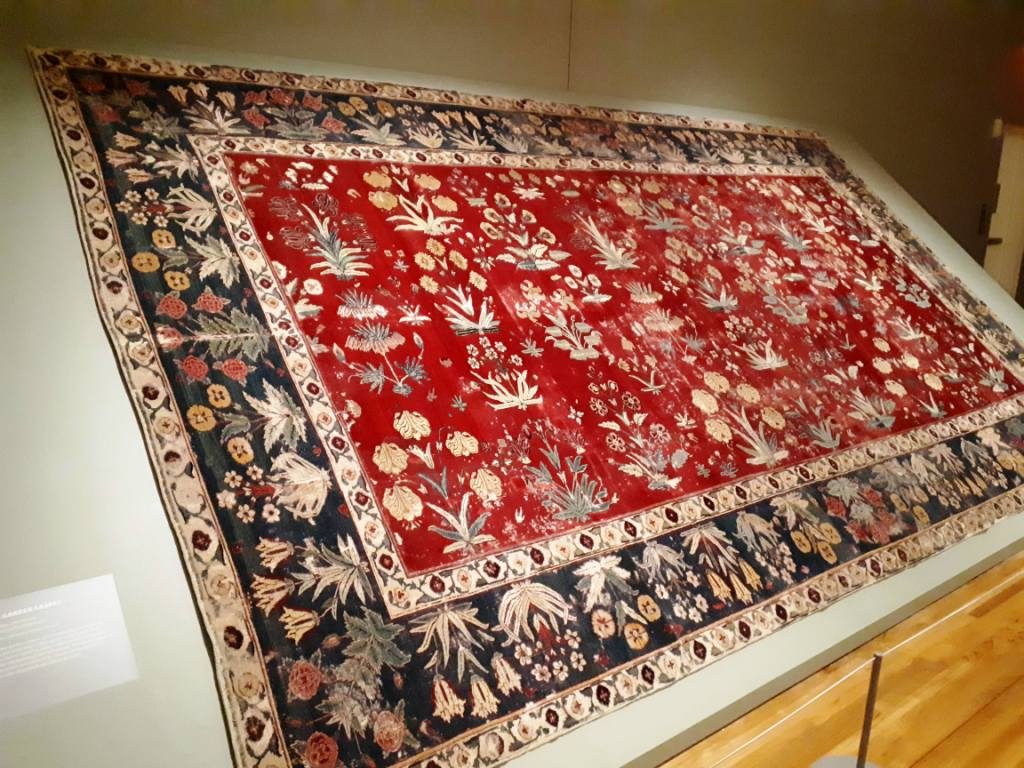 This video (in Russian) gives a full flavour of the layout of the gallery, over two large rooms, and plenty of close-ups of the precious objects. You can see how the exhibit designers have made clever use of lighting through decorative screens, which cast lattice-work shadows on the floor, enhancing the atmosphere.
The exhibition Emperors and Jewels is on through January 27, 2019.
The Aga Khan Museum is museum no. 4 in my #100museums challenge (see 100 Museums Challenge).